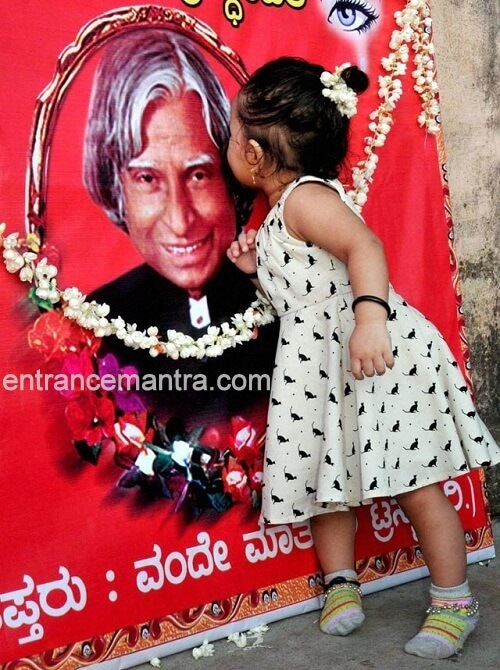 " A.P.J Abdul Kalam " – All of us do not have equal talent. But, all of us have an equal opportunity to develop our talents." 
He was a great scientist and inspiring leader. Above anything else, he was a simple and a very strong human being. His speeches and interactions with students, inspired millions. By sharing his experiences with young students, he would ignite the wings of fire among them to work hard and achieve their dreams.
Former president APJ Abdul Kalam, Popularly remembered as 'People's President' and 'Missile Man of India'. He won the hearts of millions of people & inspired the young . He passed away on July 27, 2015 . Nobody can replace such great personality. Entrance Mantra's team tributes to this great personality.
Like Entrance Mantra's Facebook Page 
Some interesting facts about APJ Abdul Kalam
1) Muslim by religion,although he was a secularist at heart. Kalam used to read both Quran and Bhagvad Gita.
2) Wheeler Island, a national missile test site in the Odisha state, was renamed "Abdul Kalam Island" in September 2015.
3) Full name – Avul Pakir Jainulabdeen Abdul Kalam, also known as the People's President and Missile Man of India.
4)He has been honoured with Padma Bhushan, Padma Vibhushan and the India's highest civilian honour — Bharat Ratna.
5)Dr. A.P.J Kalam recieved many doctorate degree from 40 universities worldwide, Kalam has also authored around 15 books.
6) After graduating in aeronautical engineering from Madras Institute of Technology , he started working with DRDO (Defence Research and Development Organization). He also designed helicopters for the Indian Army.
7) He worked under india's most renowned space scientist Vikram Sarabhai. Kalam also visited NASA in the year 1963. After which he went on to develop Polar Satellite Launch Vehicle (PSLV) and SLV-III projects, both of which proved to be successful.
8) He was the Chief Scientific Adviser to the Prime Minister of India from 1992-1999. The Pokhran-II nuclear tests were conducted during this period in which he played an intensive political and technological role. After that he emerged as the leading nuclear scientist of the India.
9) APJ Abdul Kalam was the man behind the operationalization of AGNI and PRITHVI missiles.
10)He was full of ideas on how to solve India's problems . Such as bridging the rural-urban divide through the concept of PURA (Providing Urban amenities in Rural Areas) for empowering villages and also to use solar power in a big way to overcome India's energy needs.