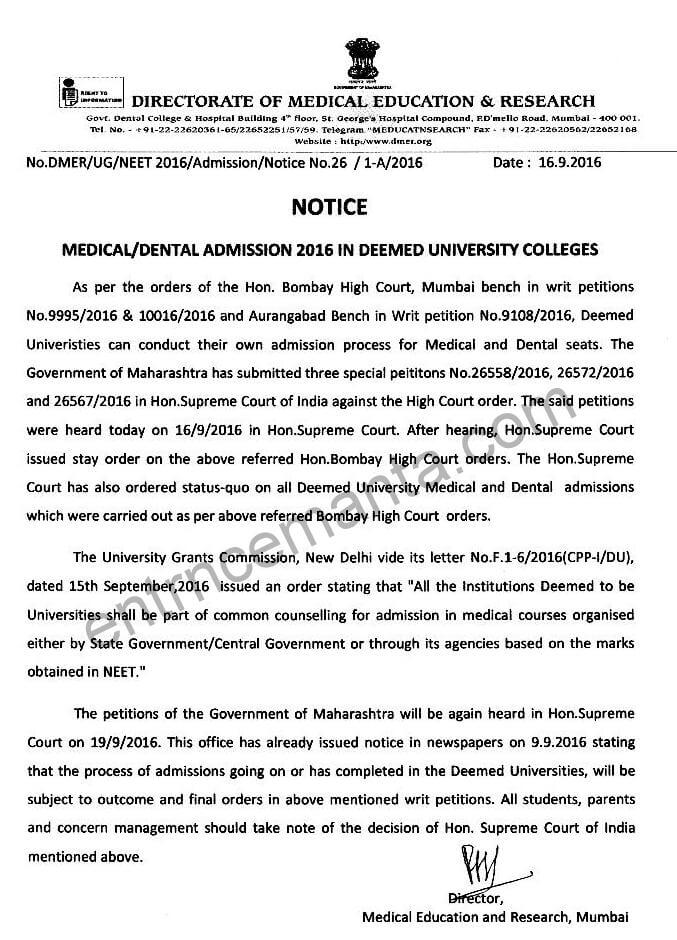 MEDICAL/DENTAL ADMTSSION 2016 IN DEEMED UNIVERSITY COLLEGE
As we posted on 10th Sept. 2016 that Maharashtra Govt moves Supreme Court on Deemed University MBBS/BDS admissions Case. Today Hon.Supreme Court issued stay order on Hon.Bombay High Court orders which allowing deemed universities to conduct admissions to medical courses.
Latest Update – Today (28th Sept) Supreme Court order combined counselling for all unfilled medical seats in Maharashtra, SC also said that admission already made would not be affected . Admission process to be completed up to 7th October 2016.
Supreme Court stayed the 30th August order of the Bombay high court till 19th September  and listed the matter before the Constitution bench where similar matters are pending.
On 30th August Bombay High Court stayed the Maharashtra government's decision mandating centralised counselling for the students who appeared for the NEET this year for medical and dental courses.
It had allowed the deemed universities in Maharashtra to hold their own counselling sessions for MBBS/BDS admissions.
Bombay High Court had stayed the mandatory states common counselling, but made it clear that the deemed universities shall admit students strictly on the basis of NEET 2016 score.
The UGC order, however, clarifies that deemed universities cannot conduct their own counselling and must go through the states common counselling process.
Next Hearing in Supreme Court – 19th Sept 2016
                                                                                    Notice
As per the orders of the Hon. Bombay High Court, Mumbai bench in writ petitions No.9995 /2016 & 10016/2016 and Aurangabad Bench in Writ petition No.9108/2016, Deemed Universities can conduct their own admission process for Medical and Dental seats. The Government of Maharashtra has submitted three special petitions No.26558/2016,26572/2016 and 26567/2016 in Hon.Supreme Court of India against the High Court order. The said petitions were heard today on 16/9/2016 in Hon.Supreme Court. After hearing, Hon.Supreme Court issued stay order on the above referred Hon.Bombay High Court orders. The Hon.Supreme Court has also ordered status-quo on all Deemed University Medical and Dental admissions which were carried out as per above referred Bombay High Court orders. The University Grants Commission, New Delhi vide its letter No.F.1-6/2016(CPP-|/DU), dated 15th September,2016 issued an order stating that "All the Institutions Deemed to be Universities shall be part of common counselling for admission in medical courses organised either by State Government/Central Government or through its agencies based on the marks obtained in NEET."
The petitions of the Government of Maharashtra will be again heard in Hon.Supreme Court on 19/9/2016. This office has already issued notice in newspapers on 9.9.2015 stating that the process of admissions going on or has completed in the Deemed Universities, will be subject to outcome and final orders in above mentioned writ petitions. All students, parents and concern management should take note of the decision of Hon. Supreme Court of India mentioned above.
Like Entrance Mantra's Facebook Page for regular updates. If you have any query than feel free to message us on our facebook page .