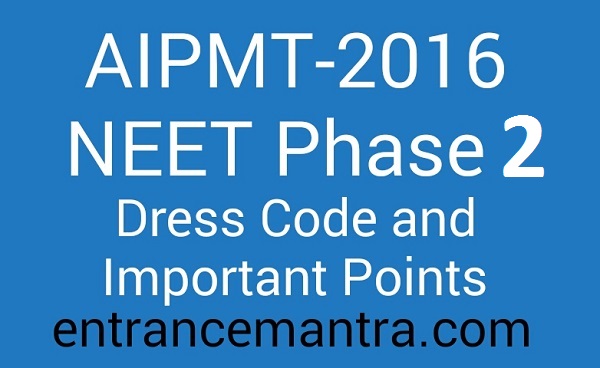 CBSE will condust NEET Phase2 on 24th July 2016. Candidiates are advised to follow instructons to avoid any inconvenience. We are providing some important points ragarding NEET Phase2 dress code,exam pattern and baared items.
Also Read – Important Notice for NEET Phase2 aspirants by CBSE
Aspirant should follow instructions mentioned below in NEET Phase2
(a) He/She will not bring any barred item at the centre.
(b) He/She will cooperate with the staff at examination centre in frisking.
(c) He/She will report at allotted examination centre well in advance to make him/herself available for compulsory physical frisking.
(d) He/She will follow the dress code for appearing in NEET Examination.
NEET Phase2 Dress Code
The candidates are instructed to follow the following dress code while appearing for NEET Phase2 2016:
(a)Light clothes with half sleeves not having big buttons, brooch/badge, flower etc. with Salwar/Trouser.
(b)Wear slippers/sandals and avoid shoes.
What do the candidates need to bring to the exam centre?
The candidate is required to bring following at the examination centre:-
 Admit Card along with passport size photograph affixed on it.

 One Post Card Size Photograph affixed on the proforma.

 One passport size photograph to be affixed on attendance sheet.
Candidates are advised not to bring any other item at the examination centres. There will not be any arrangement for safe keeping of any material at the centre. Neither CBSE nor centre will be responsible for any loss, delay etc.
Please Note: Ball Point Pen will be supplied to the candidates at the centre
Also read – BHU-2016 MBBS/BDS registration
Also read – AFMC-2016 MBBS/BDS registration
NEET Phase2 Exam Pattern
NEET Phase2 exam pattern will be same as NEET Phase1/AIPMT-2016.
1)Total 180 objective type questions( Physics-45, Chemistry-45,Botany- 45 and Zoology-45)
2)Test duration – 3 hours.
3) Marking Scheme – +4,-1 (Each correct answer will carry 4 marks and for each incorrect answer 1 marks will be deducted from the total score).
NEET Phase2 

Baared Items
The candidates are not allowed to carry the following items inside the examination centre under any circumstances. The candidates will be subjected to extensive and compulsory frisking before entering the examination centre with the help of highly sensitive metal detectors.
(a) Any stationery item like textual material (printed or written), bits of papers, Geometry/Pencil Box, Plastic Pouch, Calculator, Pen, Scale, Writing Pad, Pen Drives, Eraser, Calculator, Log Table, Electronic Pen/Scanner etc.
(b) Any communication device like Mobile Phone, Bluetooth, Earphones, Microphone, Pager, Health Band etc.
(c) Other items like Wallet, Goggles, Handbags, Belt, Cap etc.
(d) All ornaments like Ring, Earrings, Nose-pin, Chain/Necklace, Pendants, Badge, Brooch etc.
(e) Any Watch/Wrist Watch, Bracelet, Camera, etc.
(f) Any metallic item
(g) Any eatable item opened or packed, water bottle etc.
(h) Any other item which could be used for unfairmeans, for hiding communication devices like camera, Bluetooth device etc.
In case any candidate is found in possession of any of the barred items inside the centre, it will be considered as use of unfair means and action will be taken against the candidate in accordance with the relevant provisions.
Like Entrance Mantra's Facebook Page 
All the best for your exam and stay tuned with Entrance Mantra for authentic information. If you have any query than you can comment below or you may ask your query on Entrance Mantra's Facebook Page