Baba Farid University of Health Sciences (BFUHS), Faridkot, has conducted PMET-2016 exam on 11th June 2016. According to PMET-2016 official schedule the result were expected to be declared on 15th June 2016. Thousands of students were eagerly waiting for their results.
According to Vice Chancellor of BFUHS "Dr Raj Bahadur Singh" results have been delayed due to 379 objections raised by the candidates in question paper. We have already formed three review committees to avoid any mistake. But he couldn't say how long the committees would take to submit reports.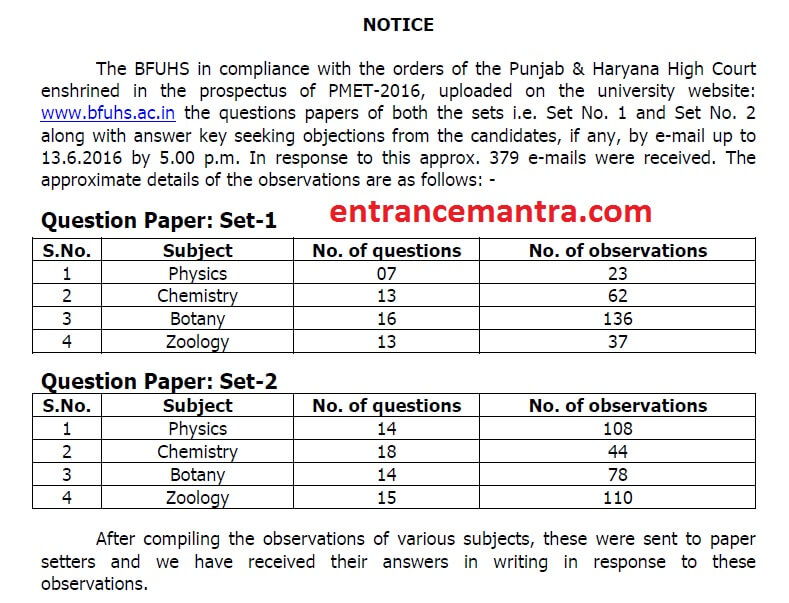 PMET-2016 NOTICE
The BFUHS in compliance with the orders of the Punjab & Haryana High Court enshrined in the prospectus of PMET-2016, uploaded on the university website. The questions papers of both the sets i.e. Set No. 1 and Set No. 2 along with answer key seeking objections from the candidates, if any, by e-mail up to 13.6.2016 by 5.00 p.m. In response to this approx. 379 e-mails were received
After compiling the observations of various subjects, these were sent to paper setters and we have received their answers in writing in response to these observations.
In order to avoid any mistake, three committees were formed. 1st committee comprising members of Professor rank of university in the subjects of Physics, Chemistry, Botany and Zoology. 2nd committee comprising members of teachers from degree college in the respective subjects as referred to above and the 3rd one comprising members of teachers from the government schools who are teaching +2 students in Physics, Chemistry, Botany and Zoology. All these three committees were formed from the government departments.
The compiled observations received from the candidates were put before the individual committee members of experts in the subjects of Physics, Chemistry, Botany and Zoology along with the question papers and answer keys of Question Set Nos. 1 and 2 for submitting their report for correct answers. Wherever needed, they were also allowed to interact with the paper setters to avoid any type of mistake. Only after receipt of complete satisfactory report i.e. the written report of the teachers of all the three committees would be treated as final report to apply answer-key to the disputed questions for the declaration of result of PMET-2016 for the entire satisfaction and interest of the candidates and making correct merit list on the basis of applying correct/vetted answer-key. The university request for bearing with this massive calculation to declare the result after its total completion.
Website – http://bfuhs.ac.in