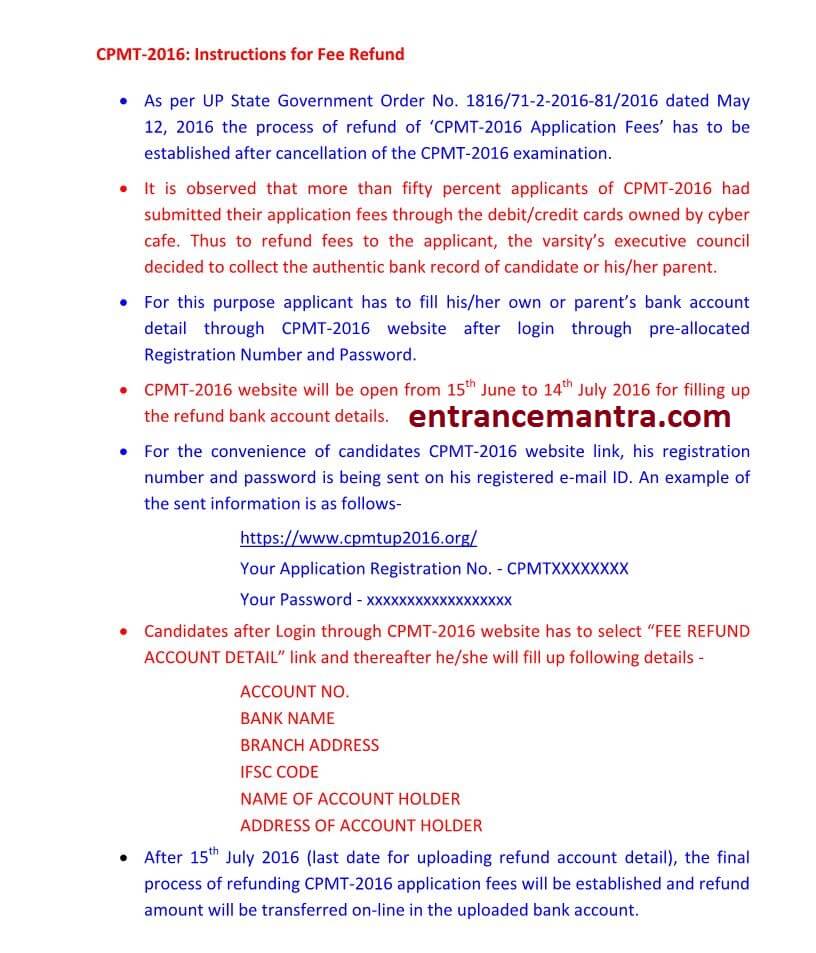 UPCPMT-2016 Fee Refund Official Noticication
Good news for all those students who were waiting for their UPCPMT fee refund.
Also Read – UP NEET 2016 Counselling Security Fee Refund by UPDGME
Latest Update -UPCPMT 2016 website will be open from 15th January to 23rd January 2017 for filling up the refund bank account details. Download Official Notification
As per official notification The Dr. Ram Manohar Lohia Avadh University, Faizabad will refund application fee in two phase.       
1)In the first phase, university will refund around 74.4% of fee
2)In the second phase, the university will refund rest amount.
Old Update -UPCPMT 2016 website will be open from 15th June to 14th July (31st August 2016) for filling up the refund bank account details.
Also read – Difference between All India Rank and All India Quota Rank in NEET Result
Also read – What is meaning of "Qualified in neet 2016" but "Not eligible for counseling under 15% AIQ seats"
The Dr Ram Manohar Lohia Avadh University, Faizabad has directed by Uttar Pradesh government to refund UPCPMT registration fee to all applied students. Details for the refund process available on the official website and also mentioned below.
Website- www.cpmtup2016.org
Entrance Mantra's team providing  information related to UPCPMT fee refund before any other website. Stay tuned with us for authentic and latest updates.
Also Read – NEET 2016 Top 10 list and Details
After Centre issued an ordinance allowing that states now have an option of either conducting their own entrance exam or to accept NEET score to fill 85% of the state quota medical and dental seats. UP government decided on 1st June(Wednesday) to go with NEET for admissions in MBSS and BDS courses.
UPCPMT 2016: Instructions for Fee Refund
1)As per UP State Government Order No. 1816/71-2-2016-81/2016 dated May 12, 2016 the process of refund of 'CPMT-2016 Application Fees' has to be established after cancellation of the CPMT-2016 examination.
2)It is observed that more than fifty percent applicants of CPMT-2016 had submitted their application fees through the debit/credit cards owned by cyber cafe. Thus to refund fees to the applicant, the varsity's executive council  decided to collect the authentic bank record of candidate or his/her parent.
3)For this purpose applicant has to fill his/her own or parent's bank account detail through CPMT-2016 website after login through pre-allocated Registration Number and Password.
4)CPMT-2016 website will be open from 15th June to 14th July 2016 for filling up the refund bank account details.
5)For the convenience of candidates CPMT-2016 website link, his registration number and password is being sent on his registered e-mail ID. An example of the sent information is as follows
              https://www.cpmtup2016.org/
              Your Application Registration No. – CPMTXXXXXXXX
              Your Password – xxxxxxxxxxxxxxxxxx
6)Candidates after Login through CPMT-2016 website has to select "FEE REFUND ACCOUNT DETAIL" link and thereafter he/she will fill up following details –
          ACCOUNT NO.
          BANK NAME
          BRANCH ADDRESS
          IFSC CODE
          NAME OF ACCOUNT HOLDER
          ADDRESS OF ACCOUNT HOLDER
7)After 15th July 2016 (last date for uploading refund account detail), the final process of refunding CPMT-2016 application fees will be established and refund amount will be transferred on-line in the uploaded bank account.
Like Entrance Mantra's Facebook Page for regular updates. If you have any query than feel free to message us on our facebook page.