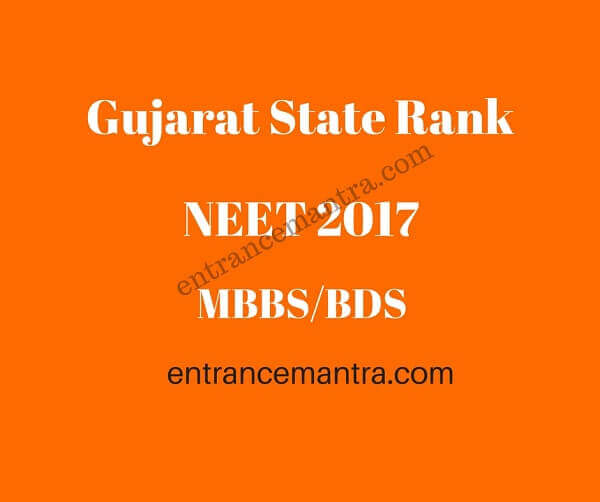 Gujarat NEET 2017 State Rank, Merit list has been released for MBBS BDS admission in Gujarat as per the marks secured by students in NEET 2017.
Admission Committee for Professional Under Graduate Medical Courses (ACPUGMEC) has released the list of students on the official website who appeared in NEET 2017.  Candidates can check their candidature for the counselling from the merit list. The list contains roll number, category, NEET score, percentile. The qualified students can now take admission in medical, dental, ayurvedic and homoeopathy courses in the Gujarat's medical colleges on the basis of their NEET score.  As per data available in the list, a total of 59126 students from the State had appeared for the NEET 2017 and more than 20,000 students qualify in NEET from Gujarat. The Committee has not given the exact date for counselling.
To get regular updates related to All India level and state level counselling 2018 , message us on our facebook page. We will provide you all information related to admission process in your facebook inbox.   (All India और State level counselling से संबंधित नियमित संपूर्ण जानकारी प्राप्त करने के लिए हमें हमारे फेसबुक पेज पर message भेजें। हम आपको फेसबुक  इनबॉक्स में सभी  admission process से   सम्बंधित जानकारी प्रदान करेंगे। )
Entrance Mantra's  facebook page link – https://www.facebook.com/EntranceMantra
Director link to message us –https://m.me/EntranceMantra or  http://bit.ly/msgtoem
Also Read – List of MBBS BDS College in Gujarat( Private & Govt)
Also Read – Punjab MBBS BDS NEET 2017 Admission ( Last date – 11 July 2017)
Also Read – Punjab NEET 2017 State Rank
Note – Other states will also release their state rank soon. If you have any query related to counselling procedure than feel free to message on our Facebook. Direct link to msg on our Fb page – bit.ly/msgtoem
If you are confused in NEET 2017 & other medical counselling process, eligibility criteria, fee structure then don't worry we will help you in the whole counselling process to get admission as per your NEET score. Visit – Medical (MBBS/BDS) Counselling Centre 
Gujarat NEET 2017 State Rank
Download – Gujarat NEET 2017 State List
For qualifying in NEET 2017 exam, the students have to score 131 out of 720 in the NEET while it is 107 out of 720 in the reserved category.
Like Entrance Mantra's Facebook Page for regular updates and Join our Facebook Group. If you have any query then feel free to message us on our Facebook page. (अगर आपके मन मेँ कोई सवाल हे तो आप हमे मेसेज कर सकते हैं।) Direct Link to message us bit.ly/msgtoem
If you have any questions then feel free to comment below