List of Private Govt Medical Dental MBBS BDS College in Gujarat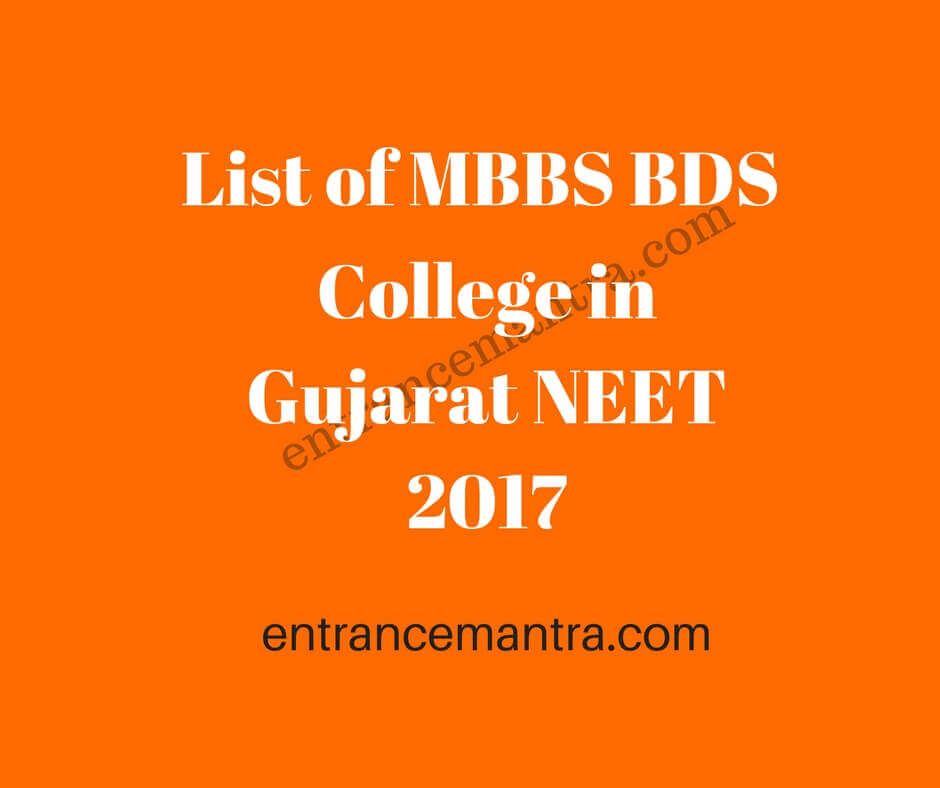 List of Private Govt Medical Dental MBBS BDS College in Gujarat and list of top private medical college in Gujarat available this post. Total Number of MBBS BDS Seats  In Gujarat, there are around 3,630 MBBS medical seats in as per Medical education department Gujarat.  Many students who have appeared in NEET are in search of a good college. So we are providing List of Private Govt Medical Dental MBBS BDS College in Gujarat
Candidate should be qualified in NEET to get admission in MBBS and BDS college. This year (in 2007) qualifying marks for admission in MBBS and BDS course is 131 marks for general category student,  118 for UR-PH and 107 for SC/ST/OBC.
To get regular updates related to All India level and state level counselling 2018 , message us on our facebook page. We will provide you all information related to admission process in your facebook inbox.   (All India और State level counselling से संबंधित नियमित संपूर्ण जानकारी प्राप्त करने के लिए हमें हमारे फेसबुक पेज पर message भेजें। हम आपको फेसबुक  इनबॉक्स में सभी  admission process से   सम्बंधित जानकारी प्रदान करेंगे। )
Entrance Mantra's  facebook page link – https://www.facebook.com/EntranceMantra
Director link to message us –https://m.me/EntranceMantra or  http://bit.ly/msgtoem
Also Read – Gujarat NEET 2017 State Rank, list & Counselling process
Also Read – Punjab MBBS BDS NEET 2017 Admission ( Last date – 11 July 2017)
Also Read – Punjab NEET 2017 State Rank
Total Number of Govt. Private Medical Dental College MBBS BDS Seats – 
List of Medical Colleges MBBS Gujarat

In Gujarat, there are around 3,630 MBBS medical seats.
| | | | |
| --- | --- | --- | --- |
| SR | Inst.Name | Type | INTAKE |
| 1 | B. J. Medical College, Civil Hosp. Campus, Ahmedabad | GOV | 250 |
| 2 | Govt. Medical College, Baroda | GOV | 180 |
| 3 | M. P. Shah Medical College, Jamnagar | GOV | 200 |
| 4 | Govt. Medical College, Surat | GOV | 150 |
| 5 | P. D. U. Medical College,Civil Hospital Campus Rajkot | GOV | 150 |
| 6 | Govt. Medical College, Near ST Bus Station, Bhavnagar | GOV | 150 |
|   | TOTAL GOV |   | 1,080 |
| | | | |
| --- | --- | --- | --- |
| 7 | Smt. N.H.L. Municipal Medical College,Ellisbridge, Ahmedabad | SFI | 250 |
| 8 | Surat Municipal Institute of Medical Education & Research (SMIMER), Opp Bombay Market, Umarvada, Surat | SFI | 150 |
| 9 | Pramukh Swami Medical College, Gokulnagar, Karamsad, Dist. Anand | SFI | 100 |
| 10 | C.U. Shah Medical College, Dudhrej Road, Surendranagar | SFI | 100 |
| 11 | Ahmedabad Municipal Coporation Medical Education Trust (A.M.C. M.E.T.) Medical College, LG Hospital Campus, Maninagar, Ahmedabad | SFI | 150 |
| 12 | Gujarat Adani Institute of Medical Sciences, Bhuj | SFI | 150 |
| 13 | Gujarat Medical Education and Research Society (GMERS) Medical College, Sola, S.G. Highway, Near Gujarat High Court, Ahmedabad | SFI | 150 |
| 14 | Gujarat Medical Education and Research Society (GMERS) Medical College, Gotri, Vadodara | SFI | 150 |
| 15 | Gujarat Cancer Society (GCS) Medical College and Research Center, Opp D.R.M. Office, Nr. Chamunda Bridge, Asrawa, Ahmedabad. | SFI | 150 |
| 16 | Gujarat Medical Education and Research Society (GMERS) Medical College, 2nd Floor, 'E' Block, Civil Hospital Campus, Near Pathikashram, Sector-12, Gandhinagar 382012 | SFI | 150 |
| 17 | Gujarat Medical Education and Research Society (GMERS) Medical College, Dharpur Village, Patan-Unjha Highway, Dharpur, Patan-384265 | SFI | 150 |
| 18 | Gujarat Medical Education and Research Society (GMERS) Medical College, Halar Road, Nanakwada, Valsad 396001 | SFI | 150 |
| 19 | Gujarat Medical Education and Research Society (GMERS) Medical College Junagadh. | SFI | 150 |
| 26 | Gujarat Medical Education and Research Society (GMERS) Medical College ,Hadiyol , Gadhoda Road, Himmatnagar. | SFI | 150 |
| 20 | Parul Institute of Medical Science and Research, po: Limda, Ta: Waghodiya, Dist: Vadodara | SFI | 150 |
| 21 | Gujarat Medical Education and Research Society (GMERS) Medical College ,Vadnagar. | SFI | 150 |
| 22 | Dr.M.K.Shah Medical College & Research Centre,Opp Akshar-III Complex, Newr Tapoval Circle,Visat-Gandhinagar Highway,Chandkheda,Ahmedabad | SFI | 150 |
|   | TOTAL SFI |   | 2,550 |
|   | TOTAL SEATS (Govt+SFI) |   | 3,630 |
      2.List of Dental Colleges BDS in Gujarat
| | | | |
| --- | --- | --- | --- |
| SR | Inst.Name | Type | INTAKE |
| 1 | Govt. Dental College & Hospital, New Civil Hospital Compound, Asarwa, Ahmedabad – 380016 | GOV | 100 |
| 2 | Govt. Dental College, Jamnagar – 361008 | GOV | 100 |
|   | TOTAL GOV |   | 200 |
| 3 | M.P.Patel Dental College & Dental Hospital, Vishwa-Jyoti Ashram, Nr. Vishvamitri Bridge, Shavaliya Seva Samaj, Munj Mahuda, Vadodara – 390011 | SFI | 40 |
| 4 | Ahmedabad Dental College, Vivekanad Society, Bhadaj-Rancchodpura road,3 Km from Science City. Dist. Gandhinagar | SFI | 100 |
| 5 | Karnavati School Of Dentisty, 907/A, | SFI | 100 |
| 6 | Dharamsinh Desai Institute of Dental Sciences, College Road, Nadiad – 387001 | SFI | 100 |
| 7 | Narsinhbhai Patel Dental College & Hospital, S.P. Sahakar Vidyadham, Kamana Crossing, Ambaji Road, Visnagar – 384315 | SFI | 100 |
| 8 | College of Dental Sciences & Research Centre, Opp. Pleasure Club, Near Bopal, Manipur Ta. Sanand, Dist. Ahmedabad | SFI | 100 |
| 9 | AMC Dental College. Bhalkiya Mill Compound, Khokhara, Ahmedabad | SFI | 100 |
| 10 | Vaidik Dental College & Research, Kadaiya, Nani Daman (U.T.) | SFI | 15 |
| 11 | College of Dental Sciences & Research, Amargadh – 364210. Dist. Bhavnagar | SFI | 100 |
| 12 | Goenka Research Institute of Dental Science, Pethapur-Mahudi Road, Nr. G.G.S., Piplaj, Dist. Gandhinagar | SFI | 100 |
| 13 | Society for Gujarat Dental Health, Education and Research (SGDHER) Dental College, Post:Dethadi, Ta. Siddhpur. Dist. Patan | SFI | 100 |
|   | TOTAL SFI |   | 955 |
|   | TOTAL SEATS (Govt+SFI) |   | 1,155 |
Like Entrance Mantra's Facebook Page for regular updates and Join our Facebook Group. If you have any query then feel free to message us on our Facebook page. (अगर आपके मन मेँ कोई सवाल हे तो आप हमे मेसेज कर सकते हैं।) Direct Link to message us bit.ly/msgtoem
If you have any questions then feel free to comment below